1. Try to wash out the spill as quickly as you can after it occurs with a plain white cloth or plain white paper towel(s). A wet/dry vacuum cleaner can also be used with water to repeatedly flush the area and suck out the moisture.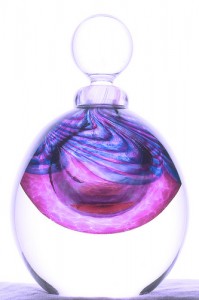 2. Mix 1/4 cup of white vinegar with 1/2 cup of water. Put it in a spray bottle if you have one or otherwise spread it as you apply it. Make it last for two or three applications, working it in gently with your fingers and then blotting it up with a clean white cotton rag or white paper towels each time.
3. Follow that with a mild detergent solution made of warm water (a cup) and a few drops of a mild dish washing detergent (such as Dawn). Again do several applications and blot up the excess each time.
4. Use plain water to rinse out all of the detergent, applying and blotting. Once you have done this, put your face close to the spot to see if there is still any odour from either the perfume stains or the vinegar or the detergent solution. Rinse again if necessary.
5. Dry the area with weighted stacked paper towels (white ones), replacing them as they get saturated. A fan blowing across the spot for a couple hours will finish the drying quickly.
If the perfume contained a colouring agent which has dyed your carpet, see the page entitled 'How to remove a colour stain from your carpet